Schon fünf Jahre ist es her, dass das letzte Mal ein Preis für eine deutsche Produktion bzw. eine deutsche Schauspielerin bei den International Emmys heraussprang. Anna Schudt wurde damals für ihre Rolle als Gaby Köster im RTL-Film "Ein Schnupfen hätte auch gereicht" ausgezeichnet. Angesichts von gleich vier Nominierungen waren die Hoffnungen in diesem Jahr aber groß, dass man die Durststrecke würde beenden können. Und lange sah es so aus, als könnte es wieder ein eher enttäuschender Abend werden für die deutsche Fernsehbranche - bis das große Finale kam.
"Oh my god, oh my god, oh my god" und "Oh krass, oh krass, oh krass!" - das waren die ersten Reaktionen von Head-Autorin Katharina Eyssen und Produzent Jochen Laube von Sommerhaus Serien, die außer sich vor Freude die Emmy-Trophäe für die "Die Kaiserin" als beste Drama-Serie entgegennahmen. "Ich kann nicht glauben, dass das gerade wirklich passiert ist", sagte die Showrunnerin Katharina Eyssen direkt nach dem Gewinn des International Emmys.
Sie freue sich vor allem darüber, dass in der ganzen Welt gesehen worden sei, dass die Serie nicht nur mit toller Ausstattung und Kostümen punkten könne, sondern eine viel tiefere Geschichte erzähle. Das Erfolgsgeheimnis sei dabei, dass man keine Angst gehabt habe, große Emotionen zuzulassen und zu erzählen. Emotionen, die offenbar länderübergreifend fesselten, wie nicht nur der International Emmy, sondern auch die giganitschen Abrufzahlen auf Netflix beweisen - nach Angaben des Streamindienstes sollen über 100 Millionen Menschen zumindest Teile der Serie gesehen haben.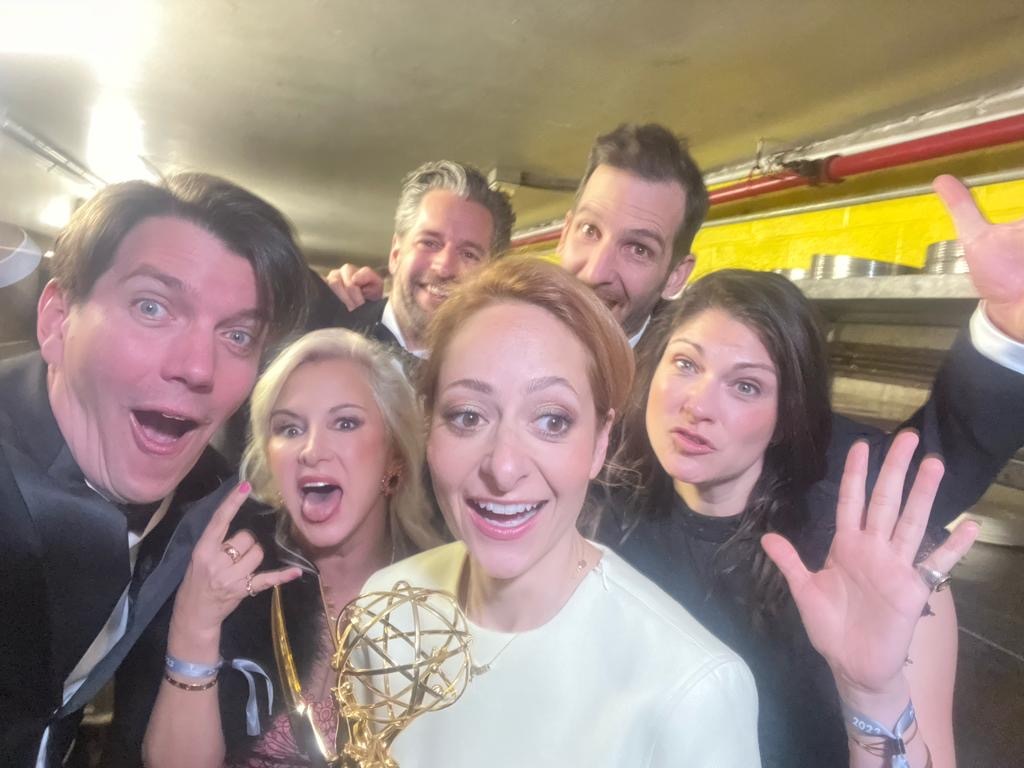 © Jochen Laube
Auf dem Weg von der Bühne zum Presseraum: Das traditionelle Kitchen-Selfie der Crew von "Die Kaiserin"
Interessant auch, dass sich drei von vier deutschen Nominierten mit der Nazi-Zeit beschäftigten - den Sieg aber am Ende genau jene davon trug, die das nicht tat. Direkt zum Start der Verleihung hatte sich "Klassik unterm Hakenkreuz" in der Kategorie "Arts Programming" der kanadischen Produktion "Buffy Sainte-Marie: Carry it on" geschlagen geben müssen. Auch dem Kika-Format "Triff... Anne Frank" war keine Emmy-Trophäe aus der Hand von Schlaubi Schlumpf - der als Presenter in allen Kinderkategorien auftrat - vergönnt, hier setzte sich stattdessen "Built to Survive" aus Australien durch. "Nazijäger - Reise in die Finsternis" zog dann noch gegen die BBC-Doku "Mariupol: The People's Story" den Kürzeren.
Gejubelt wurde allerdings vorher auch schon einmal in Mainz - denn in der Kategorie "Kids: Animation" setzte sich mit "Die Schnetts und die Schmoos" eine zwar britische Umsetzung eines Kinderbuches von Julia Donaldson und Axel Scheffler durch Magic Light Pictures durch, bei der das ZDF aber als Koproduktionspartner an Bord ist. Zu sehen sein wird das Animationsspecial übrigens am 24. Dezember im Kinderprogramm ab 7:40 Uhr morgens.
Die meisten International Emmys gingen auch in diesem Jahr übrigens wieder an Großbritannien, das im Länderranking mit vier Auszeichnungen führt, dahinter folgt Australien mit drei vor Mexiko mit zwei Preisen. Insgesamt gab es Siegerinnen und Sieger aus neun Ländern in fünf Kontinenten. In der Comedy-Kategorie gab es diesmal aufgrund eines Stimmen-Gleichstands sogar gleich zwei Sieger, der mexikanische Film "La Caìda" wurde gleich zwei Mal ausgezeichnet, neben dem Werk selbst gab's auch einen International Emmy für Hauptdarstellerin Karla Souza.
Die Gewinnerinnen und Gewinner
Arts Programming
Art Is Our Voice
NHK (Japan Broadcasting Corporation)
Japan
Buffy Sainte-Marie
Eagle Vision / White Pine Pictures
Canada
Los Tigres Del Norte: Historias Que Contar
Prime Video / Filmadora
Mexico
Music Under the Swastika' The Maestro and the Cellist of Auschwitz
3B-Produktion GmbH / Deutsche Welle
Germany
Best Performance by an Actor
Gustavo Bassani in Iosi, El Espía Arrepentido
Oficina Burman (The Mediapro Studio) / Amazon
Argentina
Martin Freeman in The Responder
Dancing Ledge Productions
United Kingdom
Jonas Karlsson in Nattryttarna [Riding in Darkness]
Jarowskij
Sweden
Jim Sarbh in Rocket Boys
Culver Max Entertainment Pvt. Ltd. (Formerly known as Sony Pictures Networks India Pvt. Ltd.) / Emmay Entertainment / Roy Kapur Films
India
Best Performance by an Actress
Connie Nielsen in Drømmeren – Karen Blixen Bliver Til
Zentropa Episodes ApS / Viaplay / Belga / Stage 5
Denmark
Billie Piper in I Hate Suzie Too
Bad Wolf
United Kingdom
Shefali Shah in Delhi Crime – Season 2
SK Global Entertainment / Golden Karavan / Film Karavan
India
Karla Souza in La Caída [Dive]
Madam / Filmadora / Infity Hill / Amazon
Mexico
Comedy
Derry Girls - Season 3
Hat Trick Productions
United Kingdom
El Encargado [The Boss]
Star+ Original Productions / Pegsa
Argentina
Le Flambeau - Season 2 [La Flamme]
Entre 2 & 4 / Making Prod
France
Vir Das: Landing
Weirdass Comedy / Rotten Science
India
Documentary
Dossiê Chapecó - O Jogo Por Trás Da Tragédia
Warner Bros. Discovery / Pacha Films
Brazil
Mariupol: The People's Story
Top Hat Productions / Hayloft Productions / BBC
United Kingdom
Nazijäger - Reise In Die Finsternis [Nazi Hunter - Journey Into Darkness]
Spiegel TV GmbH.
Germany
Witness - Serigne vs. The EU
Zungu / Al Jazeera English
Qatar
Drama Series
Extraordinary Attorney Woo
Astory / KT Studio Genie
South Korea
Iosi, El Espía Arrepentido
Oficina Burman (The Mediapro Studio) / Amazon
Argentina
The Devil's Hour
Hartswood Films / Amazon
United Kingdom
The Empress (Die Kaiserin)
Sommerhaus Serien GmbH
Germany
Non-Scripted Entertainment
A Ponte - The Bridge Brasil
Warner Bros. Discovery / Endemol Shine Brasil
Brazil
Hôtel du Temps: Dalida [The Time Hotel: Dalida]
Mediawan / Ardimages
France
Love by A.I.
Tokyo Broadcasting System Television, Inc. / Smart Dog Media.
Japan
The Great British Bake Off – Season 13
Love Productions
United Kingdom
Short-Form Series
Des Gens Bien Ordinaires [A Very Ordinary World]
Magneto Prod / Canal+
France
Lynchings
Record TV
Brazil
Man vs. Bee
RedRum Films
United Kingdom
The Mandela Project
Paramount
South Africa
Sports Documentary
30 Dias Para Ganar
North Films / N+Docs / ViX+
Mexico
Alexia. Labor Omnia Vincit
You First Originals
Spain
Harley & Katya
Stranger Than Fiction Films
Australia
Two Sides
T+W / Whisper Cymru
South Africa
Telenovela
Cara e Coragem
TV Globo
Brazil
Pantanal
TV Globo
Brazil
Para Sempre [Forever]
Plural Entertainment
Portugal
Yargi [Family Secrets]
Ay Yapim
Turkey
TV Movie/Mini-Series
Chaeboljib Maknaeadeul [Reborn Rich]
Raemongraein / SLL / ChaebolSPC / VIU
South Korea
Infiniti
Empreinte Digitale / Federation Entertainment Belgique
France
La Caída [Dive]
Madam / Filmadora / Infinity Hill / Amazon
Mexico
Life and Death in the Warehouse
BBC Studios
United Kingdom
Kids: Animation
Menino Maluquinho [The Nutty Boy]
Chatrone
Brazil
Moominvalley - Season 3
Gutsy Animations
Finland
Rilakkuma's Theme Park Adventure
Warf Studios / Field Management Expand Inc.
Japan
The Smeds and The Smoos
Magic Light Pictures
United Kingdom
Kids: Factual
Built To Survive
Butter Media / Australian Broadcasting Corporation / Australian Children's Television Foundation
Australia
Quintal TV – Season 2 [Yard TV]
Canal Futura - Fundação Roberto Marinho
Brazil
Takalani Sesame – Season 13
Sesame Workshop / Pulp Films
South Africa
Triff... Anne Frank [Meet... Anne Frank]
Cross Media / IFAGE
Germany
Kids: Live-Action
Gudetama: An Eggscellent Adventure
OLM, Inc.
Japan
Heartbreak High
Fremantle / Newbe
Australia
Kol Od Balevav [Memory Forest]
TTV Production Ltd. / Kan Educational / Genesis Philanthropy Group (GPG) / Gesher Multicultural Film Fund / The AVI CHAI Foundation / Maimonides Fund
Israel
Tierra Incógnita
Disney+ Original Productions / Non Stop
Argentina